Affordable and Effective Legal Help
Services amongst the most competitive in the UK.
Welcome to
National Will Writers
Our members are committed to the highest standards in the industry and adhere to our strict Code of Conduct, ensuring clients always receive a high quality, professional service.
We offer extensive training, technical support, and literature/resources to our accredited members, and provide fully comprehensive estate planning services.
All estate planning services provided to clients are overseen and completed by our qualified professionals and protected by our professional indemnity insurance up to the value of £2 million.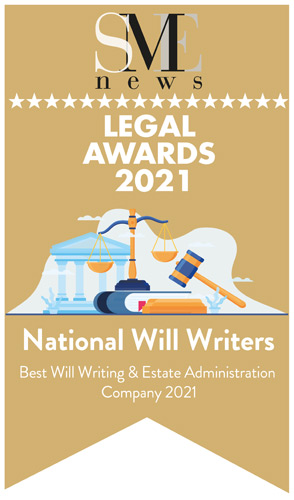 A leading specialist Will Writing and Estate Administration company.
Professionally accredited personnel, with many years' experience in the industry.
Committed to the achieving the highest standards in the industry and adhere to a strict code of conduct.
Highly tailored approach, making the process as easy and understandable as possible.
From Wills and Trusts, to Lasting Power of Attorney, Funeral Plans, and Probate Services, we provide a range of fully comprehensive and bespoke services.
Costs amongst the most competitive in the UK at present.
Highly recommended by our clients.
Do you want to safeguard your assets
and the future of those you care about the most?
In the event that you became incapacitated, who would you want to look after your health, welfare, property, and financial affairs?
Do you want to choose who will benefit from your Estate, as well as what and how much they are entitled to?
Do you want your Executors to have to fulfill complex, time-consuming, and often overwhelming duties at what will already be an emotional and stressful time?
Why spend the time, energy, and money making provisions to protect your loved ones and your Estate, to then not protect the documents protecting them?
Funeral costs are rising higher than annual UK inflation, with the cost of cremation rising by 4.2%, and the cost of burial rising by 3.7% each year.
Focus on the bigger picture..